Toronto AODA Signs
Experienced with creating AODA compliant signs, Toronto Custom Signs is a trusted manufacturer, supplier, and installer of high-quality AODA signs that meet the needs of your business as well as the requirements of the law.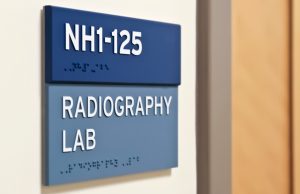 Whether you need signs with visual characters, tactile characters, and/or braille, you can count on our team of signage experts to help your establishment comply with the set regulations.
We at Toronto Custom Signs understand the huge positive impact that AODA signs make in the community, and we will partner with you to make life a lot easier for your customers with disabilities.
Call Toronto Custom Signs today at (647) 361-2019 for your Free Consultation!
Visually Impaired Signage
Because it's required to have high-quality indoor signs that conform to the standards set by the AODA, Toronto Custom Signs makes sure that you are equipped with AODA-compliant wayfinding signs and room identification signs. This helps customers and visitors with disabilities navigate through your building safely and comfortably.
Since many Canadians are struggling with some form of visual impairment, we make signs that are visible and easy to read. One way is by utilizing high contrast AODA signage. By offering a wide variety of colors, materials, fonts, and design elements to choose from, we also help you keep your brand identity cohesive.
It is our goal to help you give your customers a safe, convenient, and pleasant experience as they do business with you.
Legally Compliant Signage
In some states, a violation of accessibility requirements is a civil rights violation and can result in thousands of dollars in fines. If your business signs are noncompliant, you could fail inspections and be refused a certificate of occupancy. Here at Toronto Custom Signs, we protect our clients from the long arm of the law with legally compliant business signage.
The AODA Standards for Accessible Design does not just cover the size, design, and tactile copy of signs…it also covers font usage, character size, color contrast, location, mounting height, etc.
AODA signs are quite a challenge and not all sign providers are up for it. But we are.
As experts in the AODA sign-making industry, Toronto Custom Signs assures you that we can deliver AODA signage that complies with the highly specific standards set by the government.
Full-Service Sign Company
Here at Toronto Custom Signs, we don't just produce AODA signs for you, we also guide you through every step of the sign-making process. We make sure that we share our signage expertise with you from design to choice of materials, production, placement, and installation.
Toronto Custom Signs is fully aware that for Americans with disabilities, signs that are meticulously designed, crafted, and installed can make a huge difference. We want to partner with you in making that difference.
Free AODA Signs Consultation
When it comes to matters as serious as AODA compliance, you shouldn't settle for generic, run-of-the-mill business signs. It's important to choose a sign provider that knows the ins and outs of AODA sign standards and requirements. Toronto Custom Signs is exactly that. Let's talk about your business signage needs and the many solutions we can offer you.
Call Toronto Custom Signs today at (647) 361-2019 for your Free AODA Signs Consultation!